When I was a child, I was fascinated by Yellowstone National Park. I saw it through my
View Master 3-D viewer and it opened up the world to me. The mountains, the waterfalls, the bears, and Old Faithful were very cool to look at but I never experienced them first hand, until now, and this is what I learned.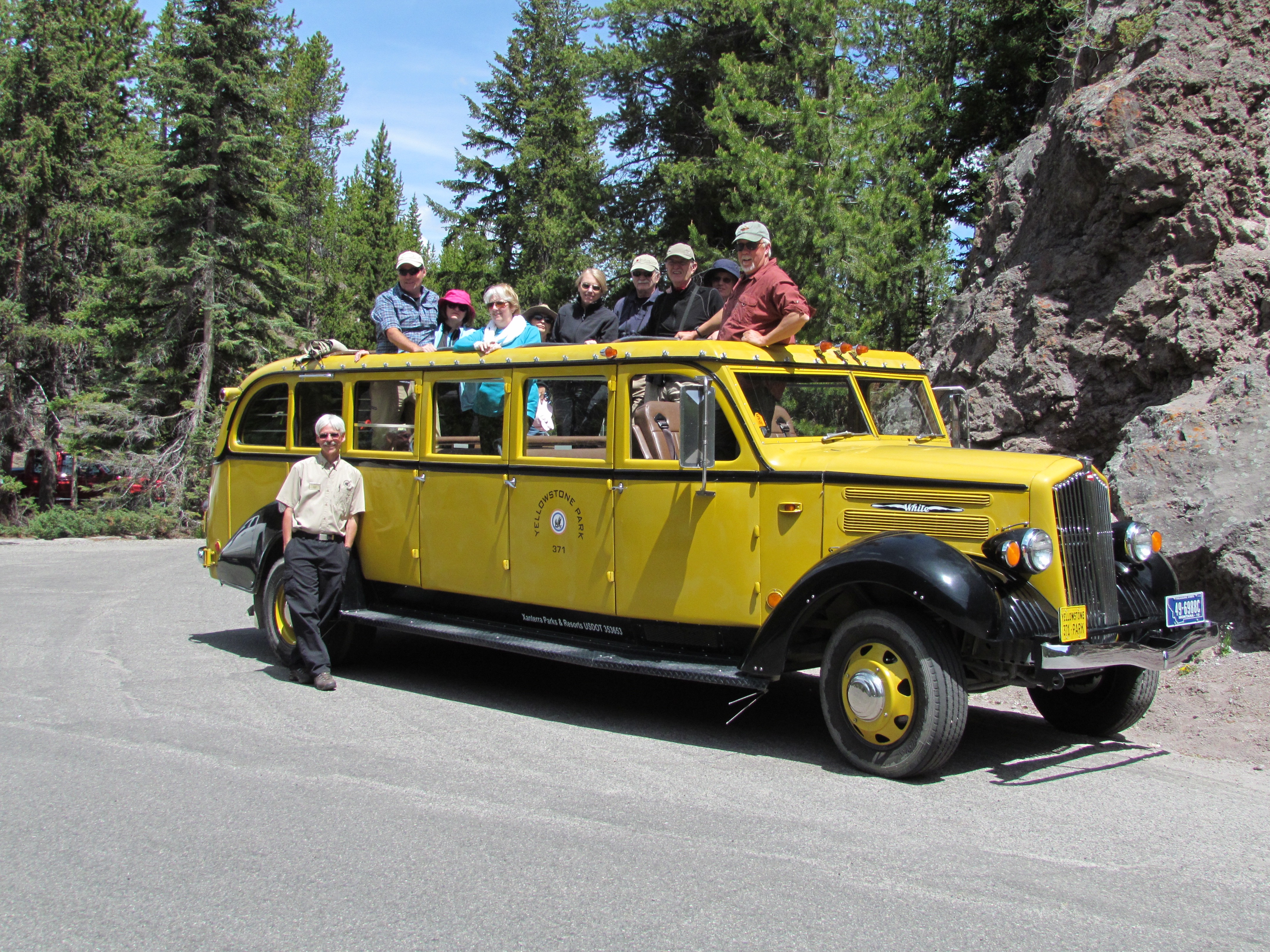 My wife and I set out for a Yellowstone adventure by flying into Bozeman, Montana, the closest airport to the park entrance. Driving from Bozeman to the park, I began to understand why Montana is known as Big Sky Country. That's about all there is. There's a lot of open space covered by a very big sky. In fact, the name Bozeman is an old Indian word meaning, "How 'bout that sky?"
I drove to the park's northern entrance and through the Roosevelt Arch, a stone arch named after President Theodore Roosevelt a big fan of the park and a guy who loved a good arch.
As I approached the ranger station, I was treated to something we call a "deal." Regular admission to the park is $30 per car and it is good for several days. However, I learned that if you have reached the age of 62 and are a U.S. Citizen, you can purchase a LIFETIME pass to ALL NATIONAL PARKS for only $10. That's it, one sawbuck for a lifetime membership to all the parks. It was such a good deal, I bought two.
Our first stop was Mammoth Hot Springs which lived up to its name by being mammoth, hot, and quite springy. It was here that we spotted our first wildlife, a lawn filled with elk. Apparently the local Elk's Club was closed and they had no where better to go so they slept on the lawn.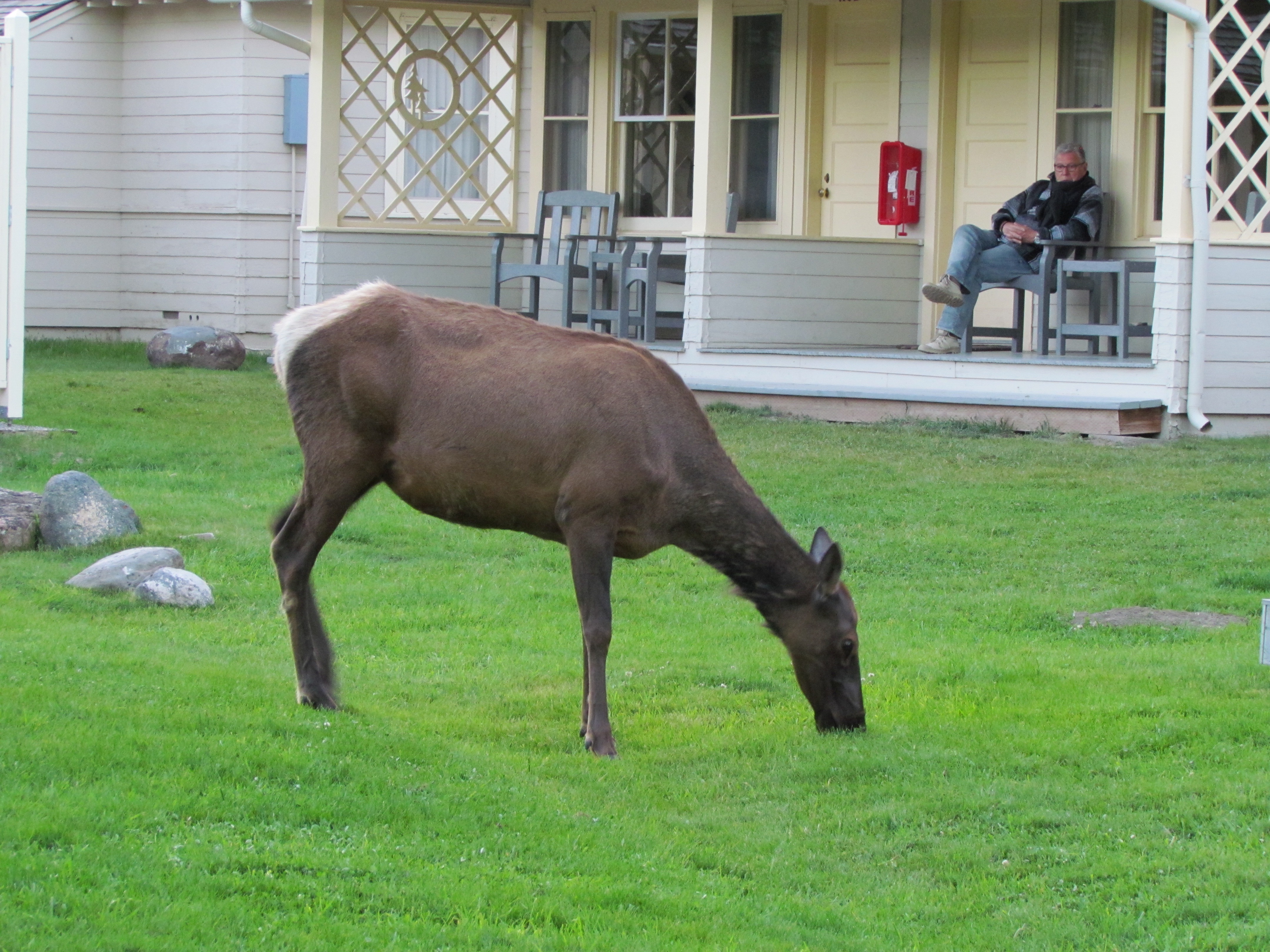 We met up with the other members of our tour, who also looked like they had taken advantage of the $10 deal of the century. There were nine of us in the group; besides my wife and me, we had Bob and Marsha from Florida, Jim and Lynn from New Mexico, and Brad and Marta, also from Florida, who were joined by Marta's 87-year-old mother, Olga, the real trooper among us.
We travelled through the park in a 1936 White Touring Car. It had three bench seats for the passengers and a canvas top that rolled back in nice weather. Our bus was so unique that tourists took pictures of it while I made faces through the window.
After a restful night's sleep, we awoke at O dark hundred to see wildlife. Apparently the wolves and bears are morning animals. While hiking to an observation spot, I learned that there are 4,900 bison in the park and they have a propensity to poop anywhere and everywhere. Hiking across a meadow is like traversing a mine field of dookie. The enormous elk are also ubiquitous here, as are their droppings but I couldn't tell their scat from bison scat. I guess some folks are right, I don't know shit.
The park is also loaded with bears and if you come in contact with one, you need to have bear spray. I bought one but I have to tell you that bear spray is nothing like mosquito spray. You are supposed to spray it AT the bear. Live and learn.
The rest of the day we saw coyotes, eagles, osprey, mountain goats and other animals all being photographed by people with camera lenses the size of pontoons. Apparently when it comes to wildlife photography, size matters.
DAY TWO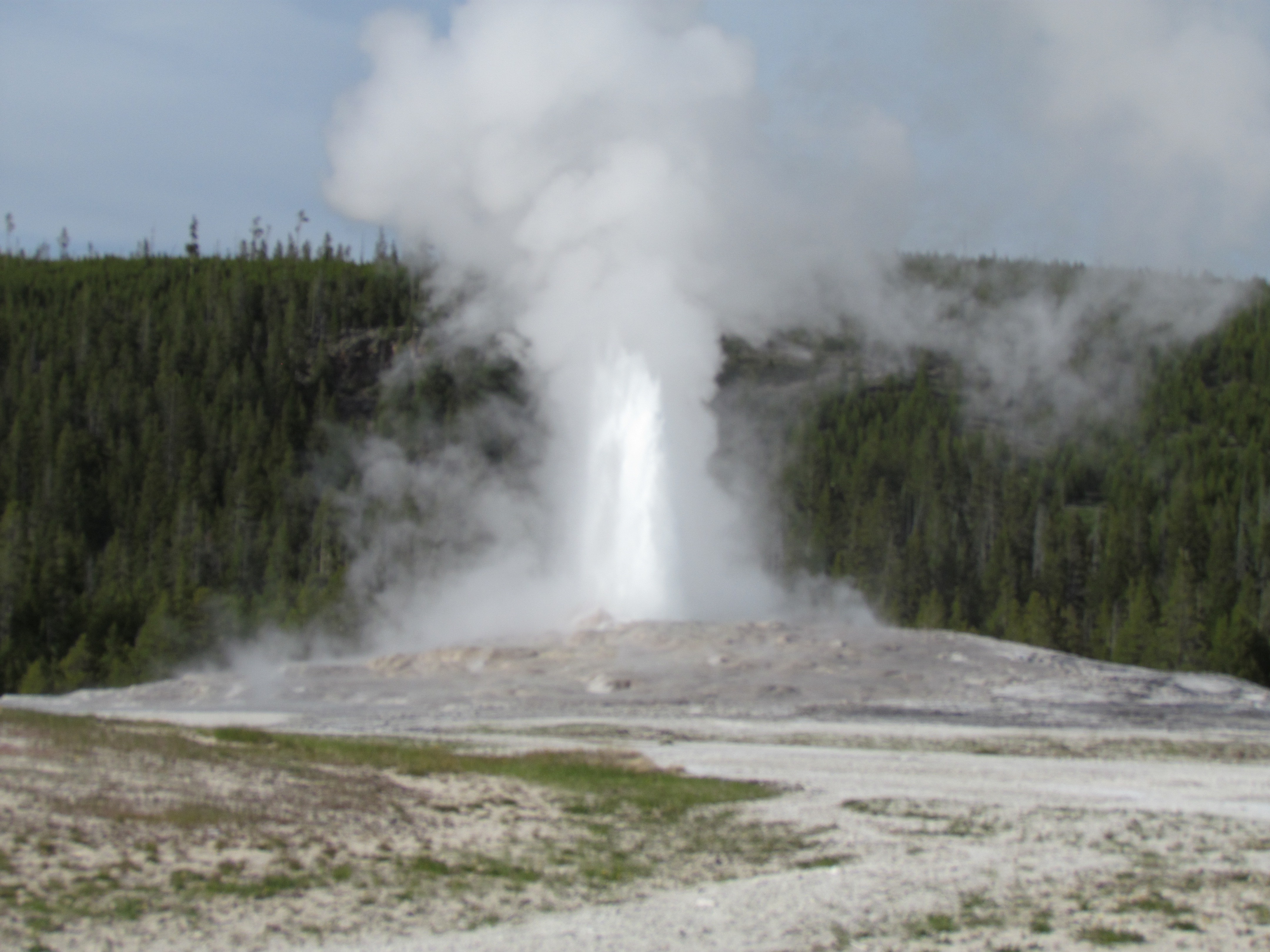 We started early again and were rewarded with views of hundreds of bison amid millions of bison chips. This day was dedicated to geysers and we saw quite a few at the Norris Geyser Basin. Old people watching geysers made us geezer geyser gazers. (rim shot).
There are a lot of geysers, hot springs and mud pots in the park because it sits atop the world's largest volcano. It hasn't erupted in 65,000 years but experts predict that it could go off any minute. This is reassuring news. At least if it blows while I'm here, I'll get some great photos for Facebook.
The high point of the day was seeing Old Faithful, the geyser that has been erupting regularly for eons. It was erupting at 90 minute intervals the day we were there and seats around the geyser soon taken up by bus loads of foreign visitors. When Old Faithful erupted, they took pictures and got back on the bus. I sat around and waited for the next show. I'm getting my $10 worth on this trip
DAY THREE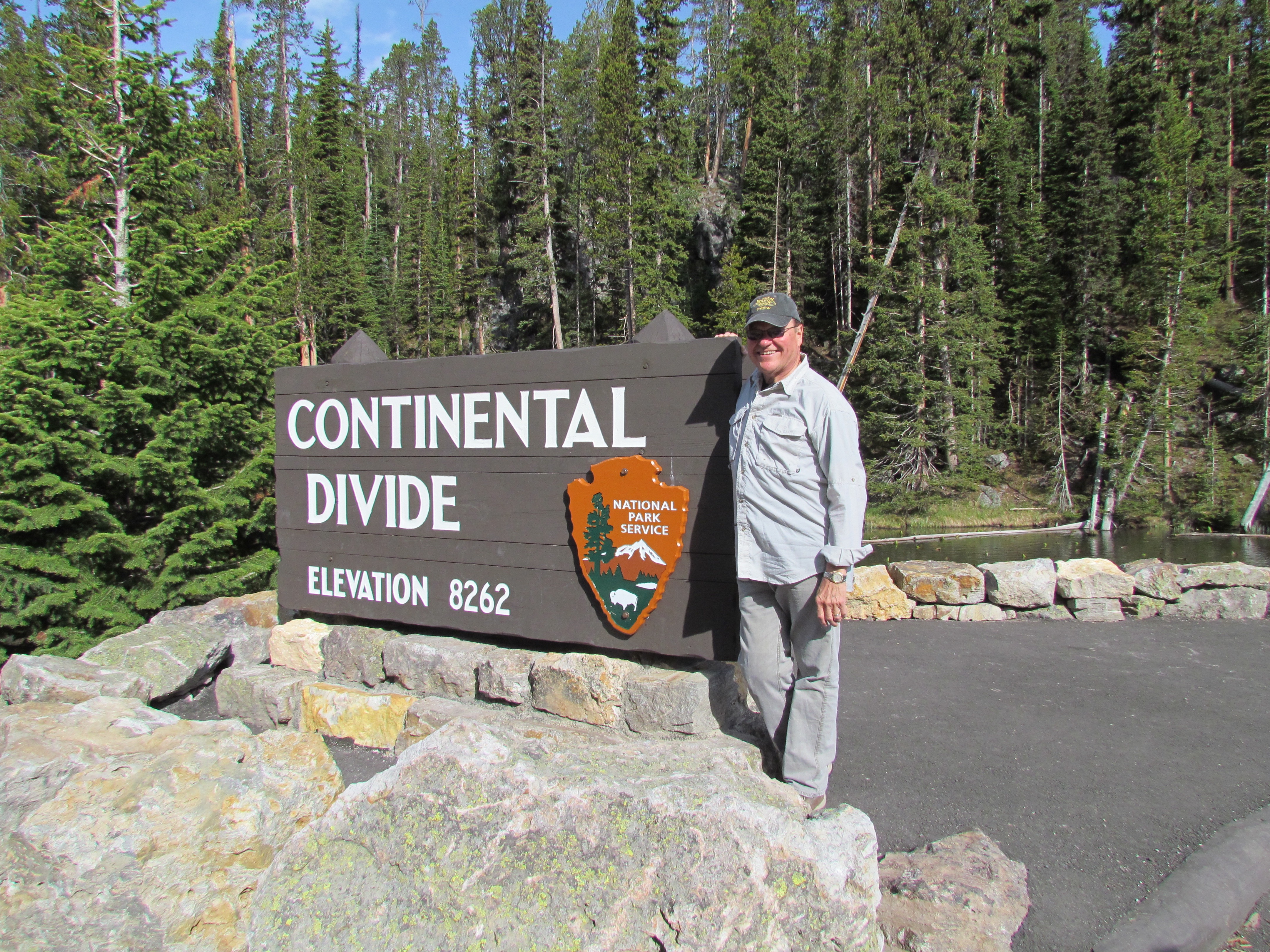 I have been in the park for three days now, and no sign of a bear. We did, however cross over the Continental Divide, a line defining the flow of water on the continent. All water that falls to the east of the divide eventually winds up in the Atlantic, while water that falls to the west of the divide goes to the Pacific. I don't know what happens to water that falls to the north or south of the divide but I guess that's another mystery of nature.
As we continued on our way to Lake Yellowstone, I found time to contemplate reality. The reality was that I was on vacation atop the world's biggest volcano – which could go off at any time – surrounded by animals that could kill me, in an area that experiences 2,000 earthquakes a year, at an altitude that makes it hard to breathe. This is about as much nature as I care to experience.
There is no TV service in the park, no internet, and limited cell phone service. Unfortunately, there are a plethora of selfie sticks, gimmicks that represents everything that's wrong with the world today.
There are also signs posted everywhere warning visitors to stay 25 yards away from wild animals lest they be killed and/or thrown out of the park, but the selfie-stickers pay no attention and March right up to the animals. Perhaps they can't read the sign with the red circle with a line through it but was an example of another of nature's wonders, natural selection.
DAY FOUR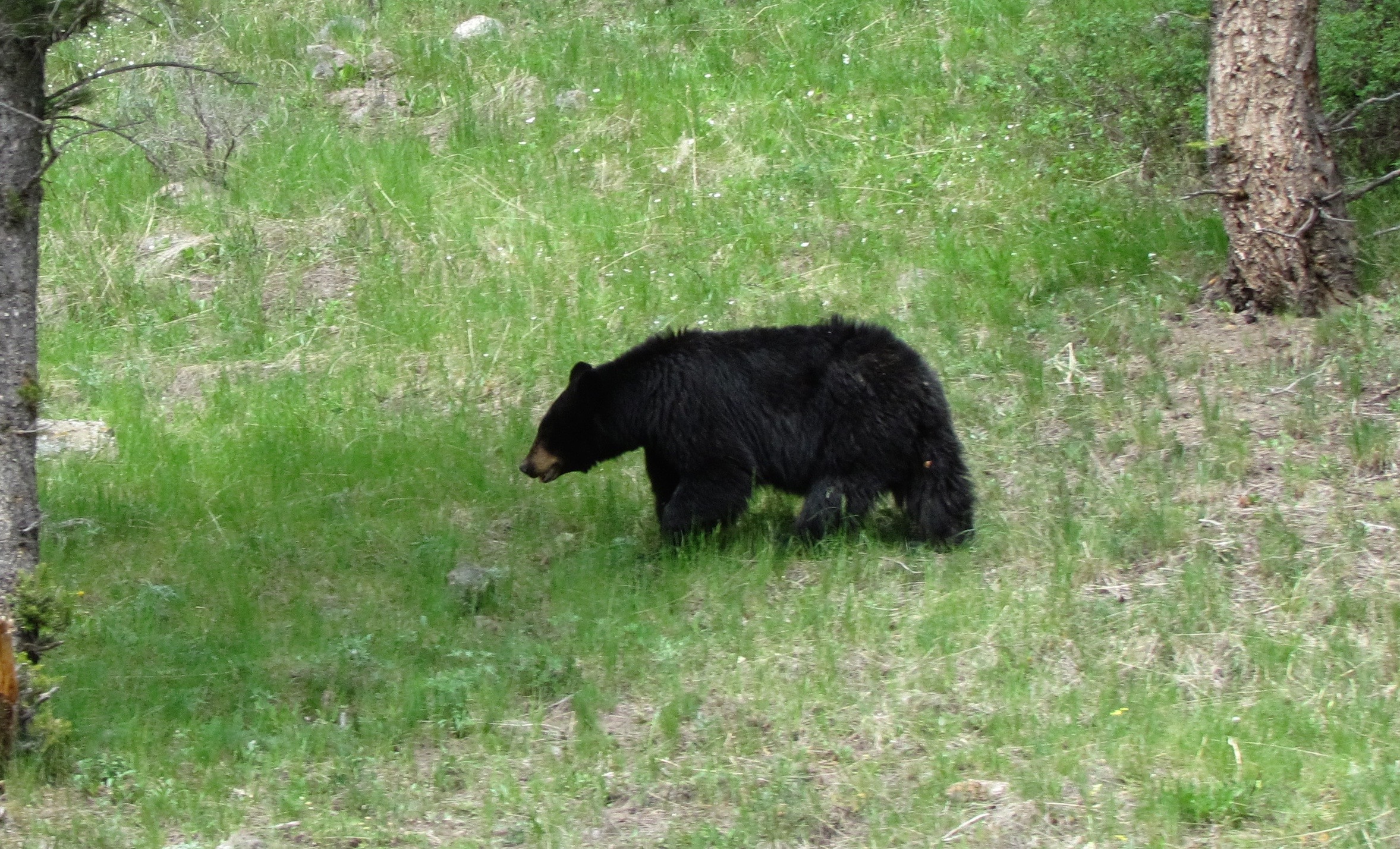 Although it is early in the season, the roads in the park are starting to get full of cars and RVs, and when one of them spots wildlife along the road, they all stop creating what is known as a "bear jam." One such bear jam caused us to exit our vehicle and climb a hill where, in the distance, we saw a grizzly bear and her cub. Even though we were the requisite 100 yards from a bear, I made sure I stood behind somebody with a selfie stick that I could outrun if the bear charged.
Phil set up some industrial strength telescopes and we were able to look at Gentle Betty…and her cub. Alas, I don't have a mortar-sized  lens on my camera so my pictures of the bear look much like brown dots.
After the thrilling bear sighting, we continued to the Grand Canyon of Yellowstone. Here we were greeted by magnificent waterfalls, a colorful canyon, and tourists who think they have to be the center of every picture they take. I photo-bombed as many as I could. We got caught up in another bear jam, this time it was a black bear quite close to the road. The odd thing about this bear is that he had a selfie stick.
The end of the tour brought us back to Mammoth Hot Springs, which seem to have gotten even mammother in our absence. And the same elk were there to greet us again. They must be union elk and this is their summer gig.
The next day I drove back to Bozeman on a road where the speed limit is 80 MPH. Like I said, there's not much to look at along the way.
I saw a lot in five days but Yellowstone offers so much more to see and it is all spectacularly beautiful. I'm sure I will be back because, hey, I have a lifetime pass, I look forward to using my pass at as many national parks as I can. If you have a recommendation, let me know at Dale@DaleIrvin.com.