For the first time in two years, I got on an airplane. It was for a vacation and we went to Maine. Why Maine? you may ask. Well, Maine, other than being a very pretty state is the 50th one I have visited. I have now completed the entire set of 50 states, plus Puerto Rico.  
I flew into Bangor, Maine and rented a car to drive to Bar Harbor. If you haven't seen car rental prices lately, you may want to consider buying a car when you get to your destination and selling it when you leave.
While in Bangor, I decided to visit Steven King.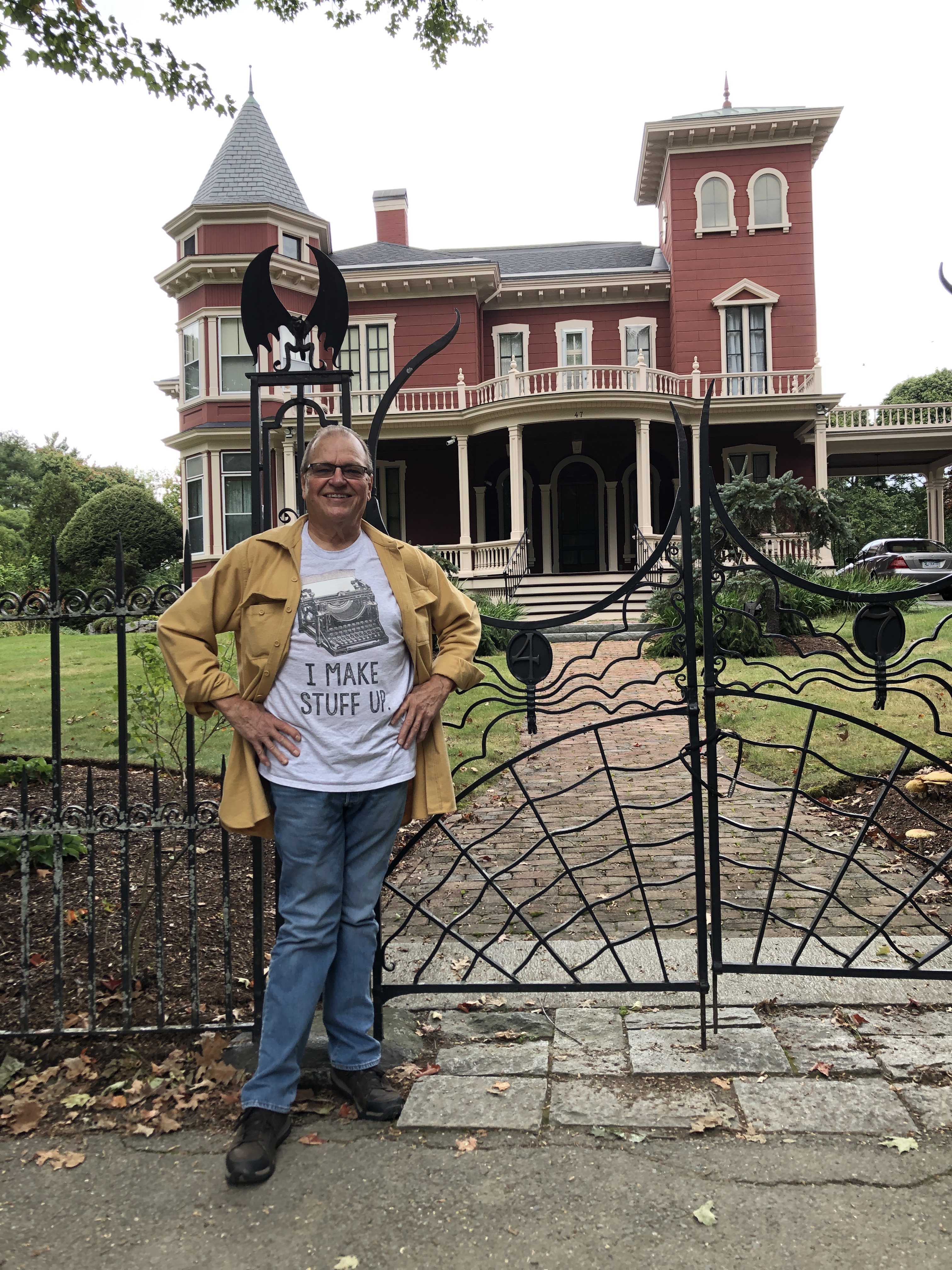 King lives in Bangor and his house isn't had to find. It's big, scary looking, and the wrought iron gates to the house look like spider webs. Since I couldn't get past the gate to ring the bell, I just called out for the author. "Oh Ste-ven" but when I did, other people took pictures of me in case there was trouble.
From there it was on to Bar Harbor, recently voted the #1 Tourist Trap in America. Bar Harbor is a small town with narrow streets and very limited  parking. It is also home to dozens of restaurants and bars who offer food and drinks, but not parking lots. So people cruise around town until they find a parking place, creating nasty traffic. I live in a big city with lots of traffic and did not necessarily want any on vacation, so live and learn.
One of the highlights of Bar Harbor is Bar Island, about half a mile away. At low tide, the ocean recedes to reveal a walkway between the mainland and the island. I wanted to explore this so we got to the embarkation point as the tide started to ebb and noticed at least 50 other tourists there for the same experience. As they all stood staring at the receding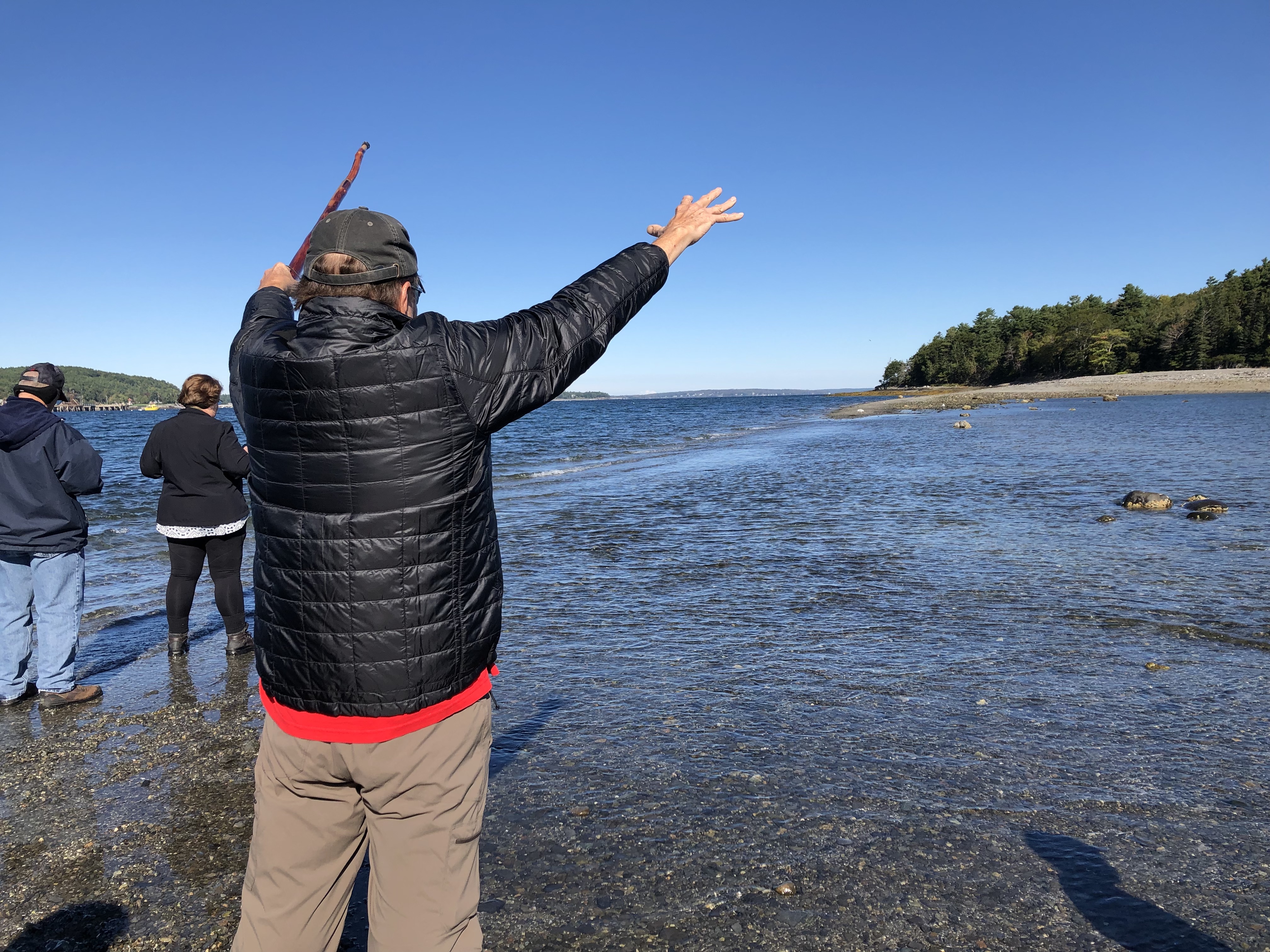 sea, I grabbed my walking stick, went in front of them, held up my stick and said, "Let my people go!" Then when the walkway completely opened up I shouted "Hurry, the chariots are coming." Good crowd.
Maine is known for several specialty foods and I tried several. First and foremost is the lobster. Lobster fresh from the sea is served at all local restaurants at extravagant prices. I asked why lobster, caught a quarter mile away, costs more than the same lobster costs in Nebraska. The server looked at me and said "You're not from here are you?"
The lobster was good but there are other fish in the sea and I tried the tuna. It was delicious and was fresh out of the can. Sorry Charlie, but you were tasty.
The highlight of Bar Harbor is the proximity to Acadia National Park. Acadia in the second most visited national park after Yellowstone, and most of the visitors were there the same time I was. At least I didn't have to worry about parking in the park, because all of the spaces were already taken. Another speciality food is available in the park in the form of at the popover. It's served at Jordan House and when we arrived, there was a 45 minute wait for a popover, so on to my next speciality food.
Moxie is a local soft drink that started in Maine and was sold to Coca Cola but still only available in Maine. Moxie has been around since 1870 and is said to have curative powers. I tried a can and found it to taste like root beer with a hint of battery acid. Perhaps it would be better with vodka.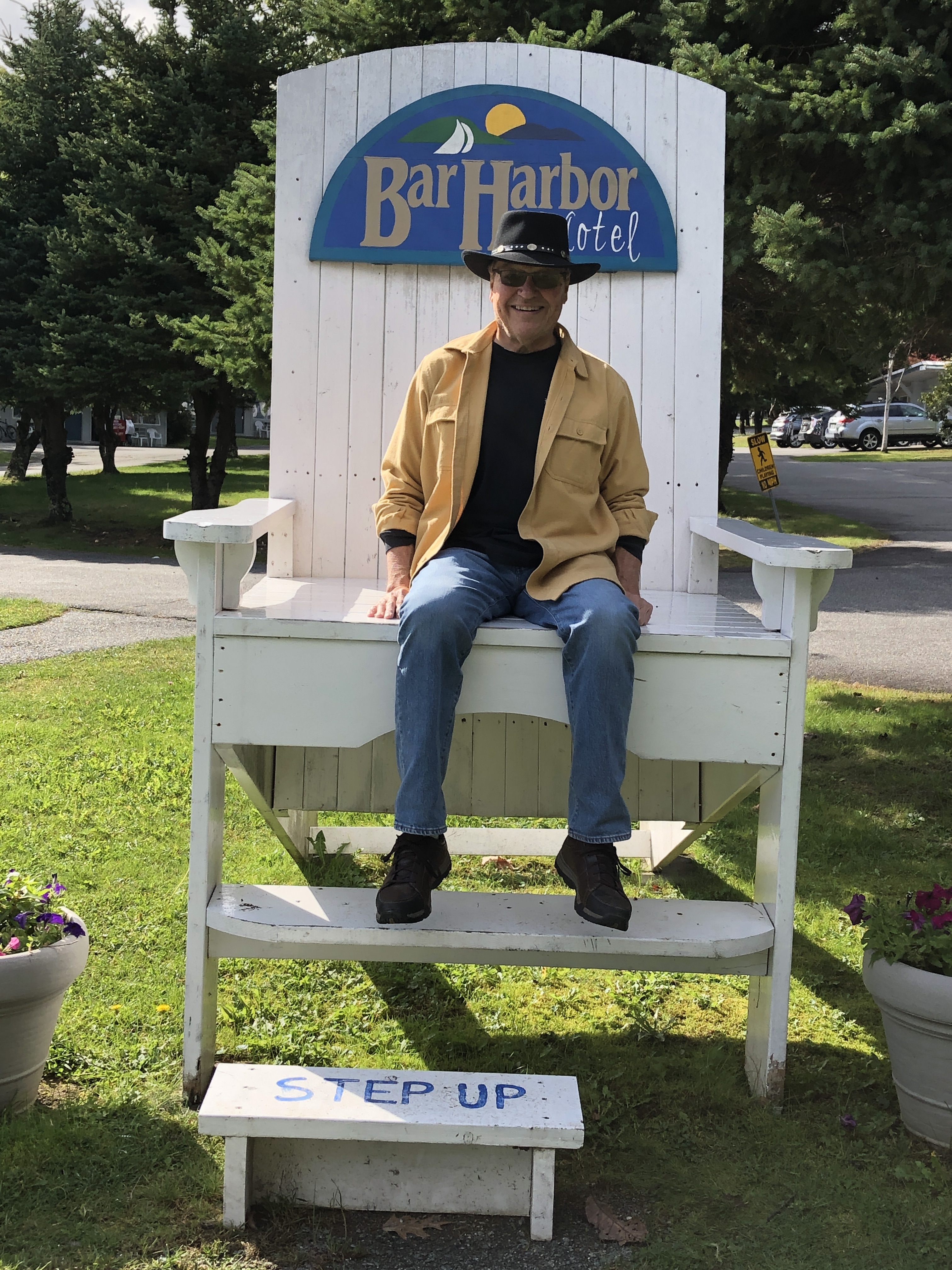 PART 2 – The story continues
Acadia National Park is the second most visited park in the National Park system. Unfortunately it's also the smallest park, which means that all of the visitors are crowded into a smaller space resulting in lines, traffic, and lack of parking. The views are nice and it's a good place to hike, but there are no geysers, mud pits, or wildlife to speak of. Other than that, it's a nice place.
I drove along the Park Loop Road and took in all of the sights including Seal Beach, which had no seals, and Otter Bay which had no otters. Locals told me that they had already left for the season.
Within the park is a restaurant called the Jordan House which is famous for its popovers. People were standing in line for  popovers, even though they didn't know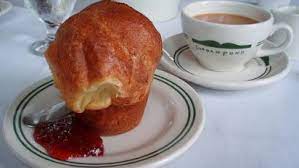 want a popover was. It's basically a bun with jelly so I didn't wait in line.
The locals told me I was visiting in the lull period between the end of summer vacation and the arrival of the leaf peepers but I cannot imagine how much more crowded it could get. So much for a relaxing time.
Another culinary treat in Maine is blueberry pie. The blueberries that grow wild here are perfect for pies and everybody sells them.  I tried to consume a slice a day and must say that they were all delicious. the other speciality I never saw before is Lazy Man's Lobster. It's a lobster taken out of its shell and presented as a pile of meat. No fighting with your food, just enjoy the cholesterol.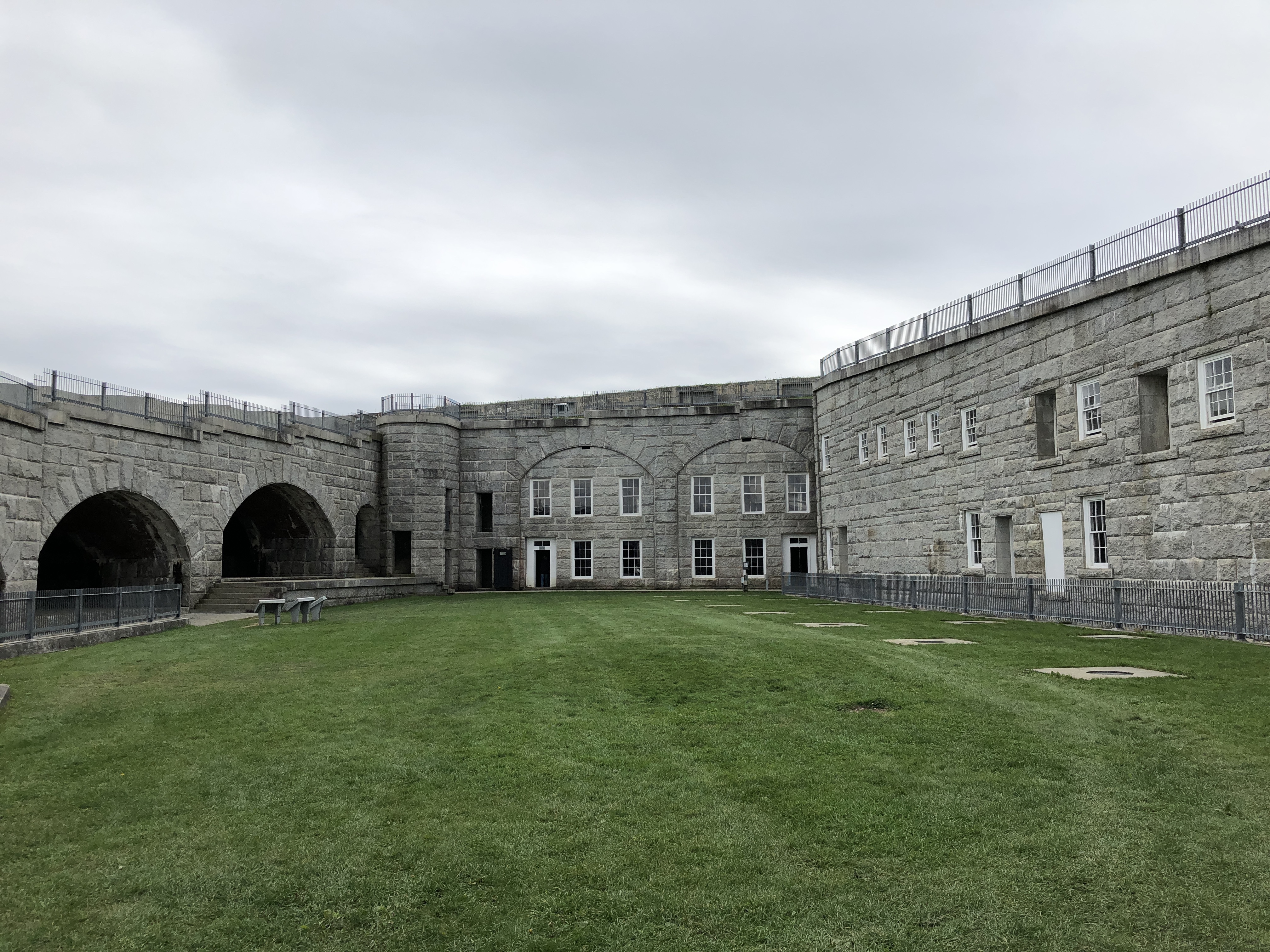 The next stop was Ft. Knox, no not the one where all of the gold is allegedly kept, this one was billed as the Original Ft. Knox and was built on the Penobscot River to guard against attacks on a valuable shipping port. It was built entirely out of granite, sourced locally. Massive blocks were hauled up a hill and placed by hand to create the structure. It was backbreaking labor and could only be done in the summer, because of the weather. That's why they started the fort in 1844 and didn't finish construction until 1869, Even more amazing is that Ft. Knox was never used. No shots were ever fired in combat from the fort. They were only used a couple of times for celebrations. The cost to build the fort was about one million dollars in 1844, which I think would be a about kazillion dollars today. Expensive and never used, another government project.
After a day of wandering around and passing at least 300 antique stores, I wound up in Rockland, Maine, home of Virginia Oliver, a 102-year-old lobster woman who goes out lobstering every day with her 78-year-old son. She has even become a local celebrity by starring in a commercial. In the spot she is asked when she plans to retire. Her answer was, "When I die."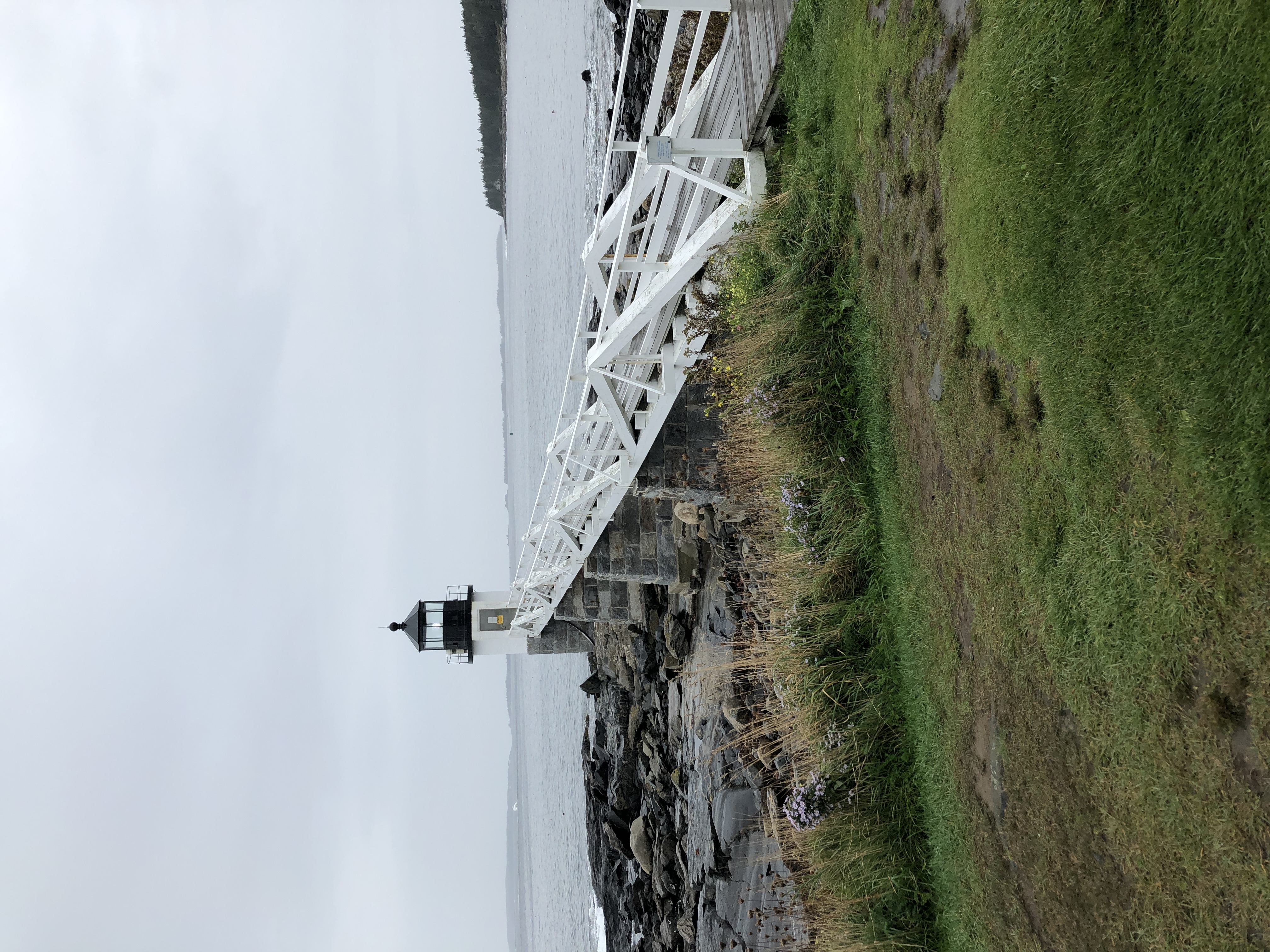 The next stop after Rockland was the Marshal Point lighthouse. This particular lighthouse is famous in that it was featured in the film Forrest Gump. Forrest ended his cross country run at this lighthouse, and then I guess went directly into the gift shop.
The adventure concludes in part 3.
PART 3 – The thrilling conclusion
My final port of call on this trip is Portland, Maine's largest city, but on the way there I found two interesting stops. The first is in Bath, a maritime center of olde. The Maine Maritime Museum is huge and one could spend the day there and never get seasick. Many ships were built here between including the largest wooden ship ever built.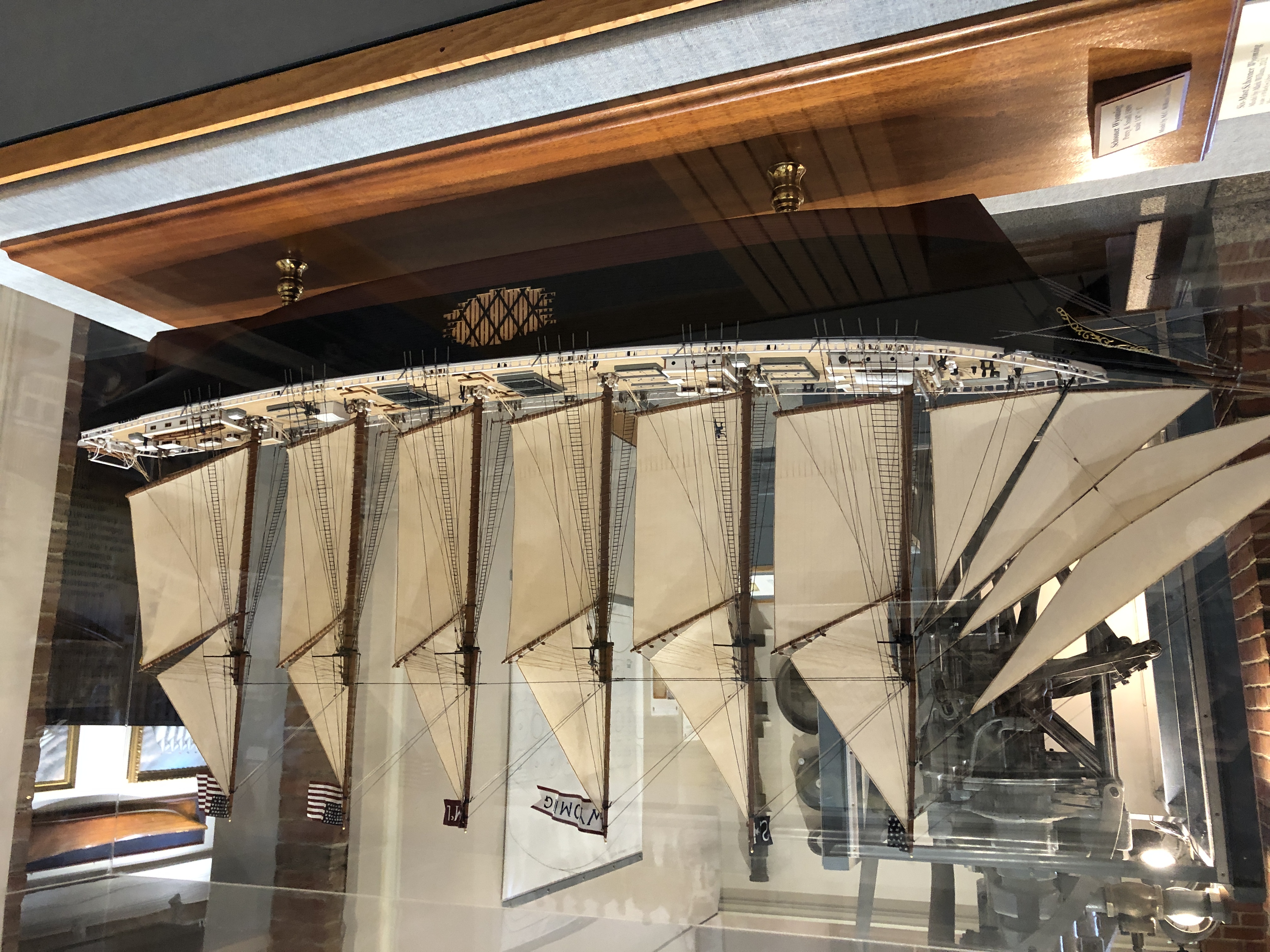 Built in 1909, the Wyoming was 450 feet long and had six masts. It was huge and undoubtedly had a showroom that could fit a circus and  14 shuffleboard courts on deck.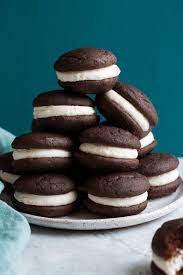 From the museum I headed to the mecca of outdoor living, the headquarters of L.L. Bean. It was a huge store filled with lots of overpriced sweaters but across the street was a store that sold Whoopie Pies, another Maine delicacy.
A Whoopie pie is slightly larger than a hockey puck and twice as delicious. The pie is made of two circles of cake, bound together by frosting in the middle. It looks like an Oreo on steroids and tastes like cake and frosting.
In Portland I went to eat in the Old Port section, a street full of bars, restaurants, and no parking. It's called the hip part of town, evidenced by the loads of tour busses filled with people who need new hips.
The final adventure from Portland was a visit to several more lighthouses, including the Portland Head Light, the most photographed of all the lighthouses, and therefore the one with the best gift shop. Then I was off to Kennebunkport, summer home of the Bush family. I cruised around the downtown area to see if George or Laura were shopping for popovers but I found no one of celebrity status. I also found no parking.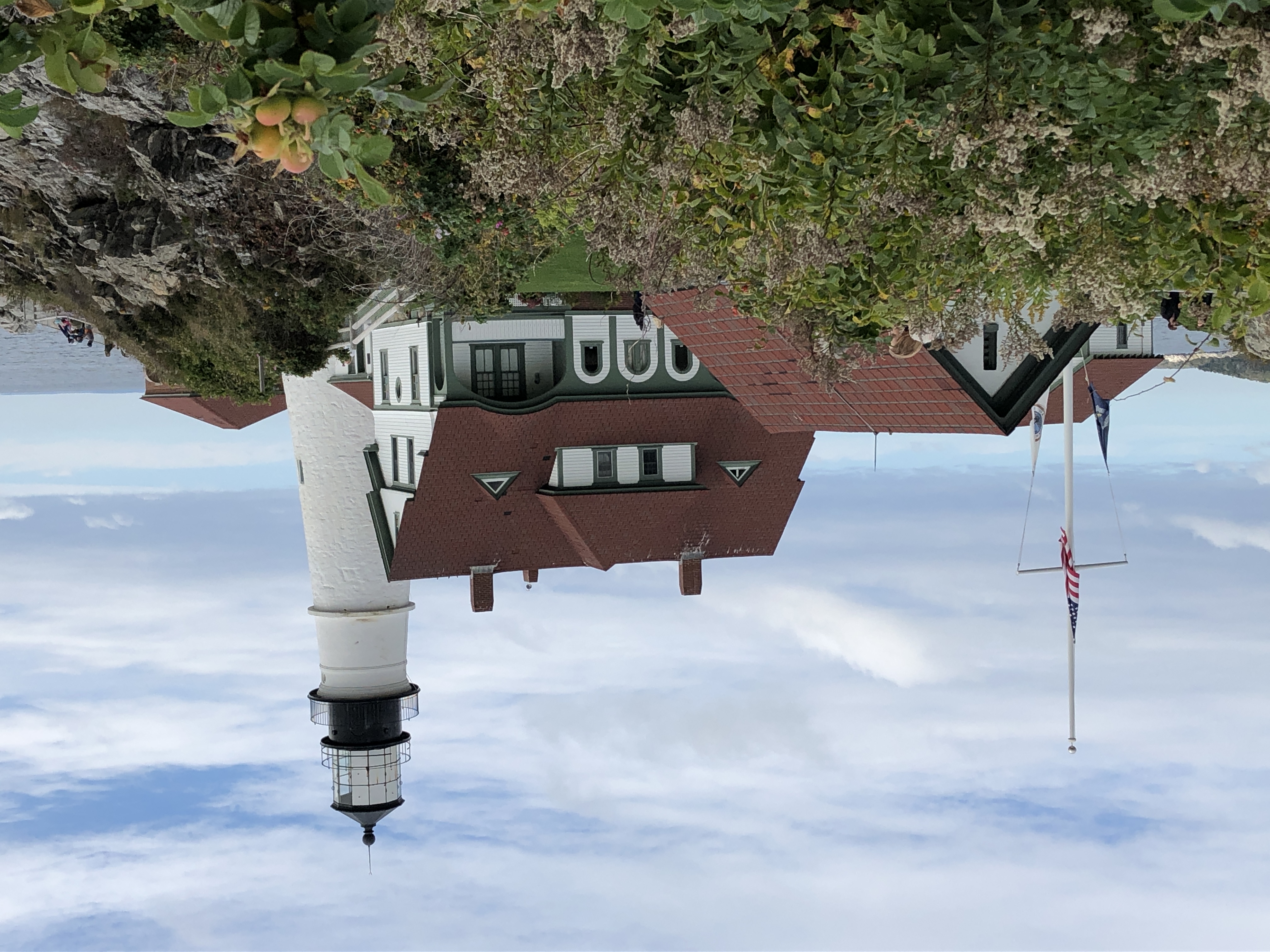 All in all I had a good time exploring Maine and if you ever plan to visit, here is the most important thing I learned. When you look at a restaurant menu and the lobster is listed as "market price" check how much money you have in the stock market because you're going to need it to pay for the lobster. 
So I bid farewell to the Granite State with one last idea for the few McDonalds restaurants I saw. If you want to see lines out the door, start serving Mc Popovers.
-30-