When last seen, I was in a Mexican restaurant in Clarksville, Tennessee, drinking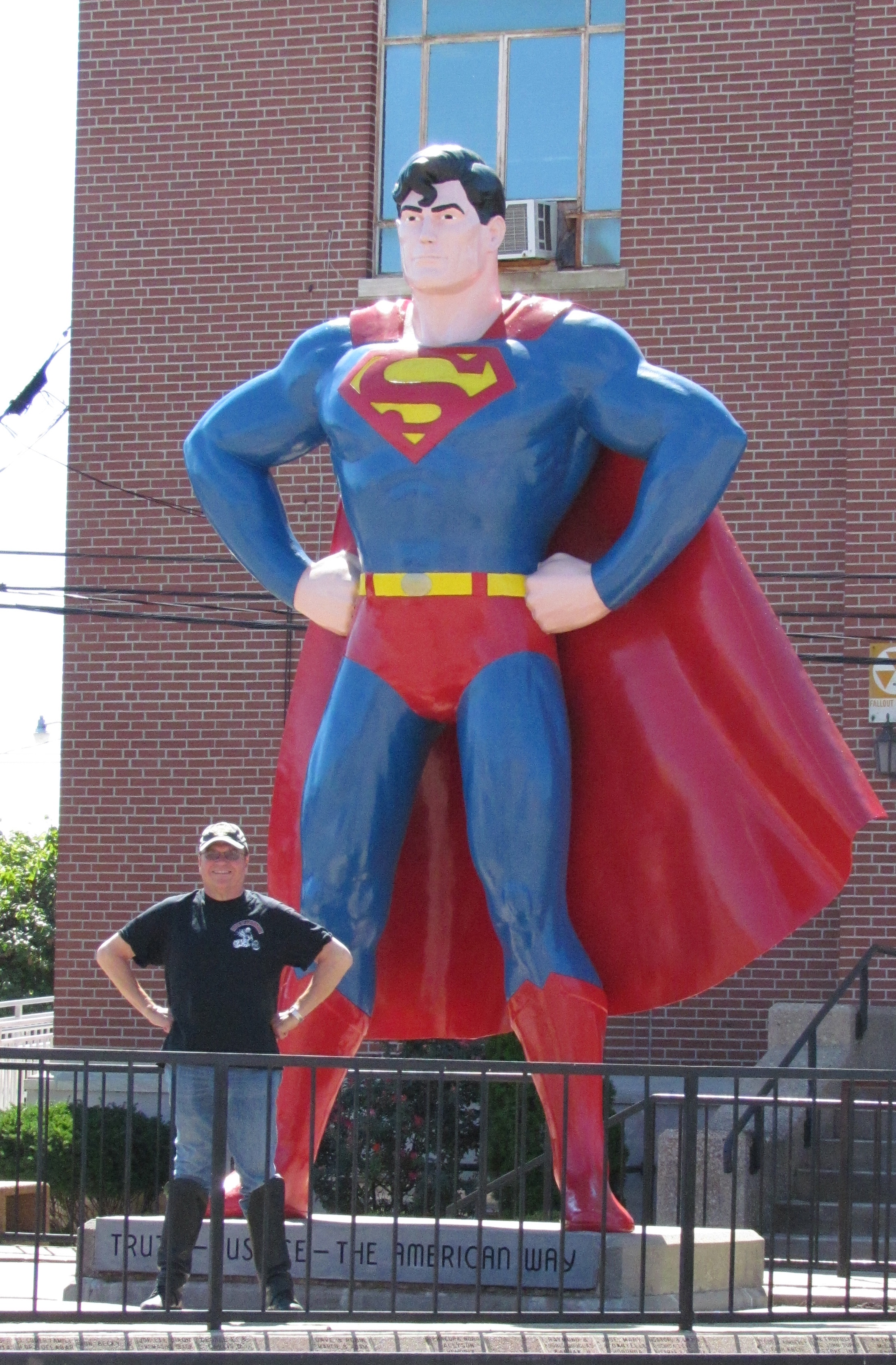 margaritas and enjoying Chorizo and Queso, an excellent jazz duo. But today is a new day and time to head north.
The first part of the trip took me on the Land Between The Lakes Parkway, 45 miles of the finest riding you will find. For most of it, I was the only vehicle on the road and it felt very surreal. Plus, I saw buffalo, and none of them had wings. Go figure.
The next stop was Metropolis, Illinois, the home of Superman. Well, truth be told, this is a different Metropolis than the one in the comics. There are no tall buildings to leap from, and The Daily Planet only comes out every couple of weeks. But they do have a giant statue of Superman that draws visitors from all over.
This town has been named Metropolis since 1839 but in 1972 they decided to cash in on their name by tying in to Superman. Conveniently close to the statue is the official Superman museum and gift shop. They're making money from a fictional character. Too bad my next stop didn't have the same idea.
Springfield is the capitol of Illinois. It is also the legendary home of Homer Simpson. Do you think they'd put up a giant statue of Homer to attract tourists? No, all the attention is on Abraham Lincoln. This is where Lincoln lived and where he is buried and where everything is named Lincoln. I stayed at the Lincoln Inn on Lincoln Street and every time I bought something, I got my change in five dollar bills and pennies, the money with Lincoln's picture. I have to tell you, getting $4.99 in change can really weigh you down.
From Springfield, I took legendary Route 66 back to Chicago and passed at least five prisons en route. We must have a lot of bad guys in Illinois. One prison even has a "governor's wing."
Route 66 was one of the first designated U.S. Highway and ran from Chicago to Santa Monica. It was memorialized by the Bobby Troupe song and the 1960's TV series. I have to admit that I definitely got my kicks on Route 66. When I stopped for gas, three kids ran up and kicked me. It must be a local custom.
Much of the original route has been replaced, but many of the original segments still exist in Illinois. The problem is they are not marked as well as they should be, especially the sign that sent me 5 miles down the road to a dead end. But I loved riding this segment of the Mother Road.
After 2,117 miles and twice as many memories, my adventure has come to an end. I hope you enjoyed riding along me and that you'll tune in for my next adventure, wherever that happens to be.