This week's big event was Columbus Day. It was celebrated on October 9th, even though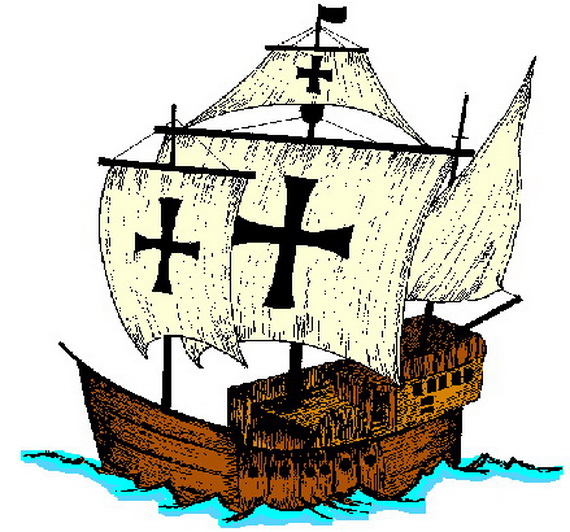 Columbus officially landed in the new world on October 12, 1492. We used to celebrate Columbus Day on October 12th until someone in government realized they could get another three-day weekend if they moved it to Monday. They did the same thing with  George Washington's birthday.
We have had the last 525 years to learn all we could about the man credited with being the discoverer of the new world. He is hailed as a great sailor even though the place he was aiming for was 900 miles to the east. He wound up closer to Indiana than he was to India. To help you learn more about Columbus, here are some fun facts to know and tell.
1. Columbus landed his three ships, the Nina, The Pinta, and The Salty Margarita, in the Bahamas, at the height of tourist season. The Salty Margarita was what Columbus originally wanted his ship named but the painter was hard of hearing and thought he said Santa Maria, so that's what he put on the back of the ship.
2. Columbus docked in Nassau and immediately claimed the island for Spain, which came as a shock to the Bahamian people living there at the time. The natives didn't like Columbus and claimed he and his crew were illegal immigrants. Columbus said they were just dreamers.
3. Columbus sensed that his jokes weren't going over very well and a war may ensue. This is when Columbus came up with an idea that changed the world forever. He figured that if there was going to be a war, there would be a need for life insurance, so he knighted several of his crew and sent them door to door as the Knights of Columbus.
4. Eventually more Spaniards moved to the Bahamas and real estate started to go through the roof. The locals used their profits to open Duty Free shops featuring sun screen, straw baskets, and rum.
5. Columbus made several trips back to the Bahamas, each time returning to Spain with loot he basically stole. Eventually he retired to Nassau where he enjoyed Bahama Mamas. Not the drink, real Bahama "Mamas". He had 13 children and named them all after cities in Ohio.