I have traveled a lot in my life and have used all types of conveyance. I have traveled by plane, car, truck, sail ship, cruise ship, bus, and motorcycle but have never ridden a train except to commute from my home to downtown Chicago. This year, my wife and I decided that it would be an adventure to travel across the country by train. I've watched all of the James Bond movies and he traveled by train, if it was good enough for James Bond it was good enough for Irvin, Dale Irvin.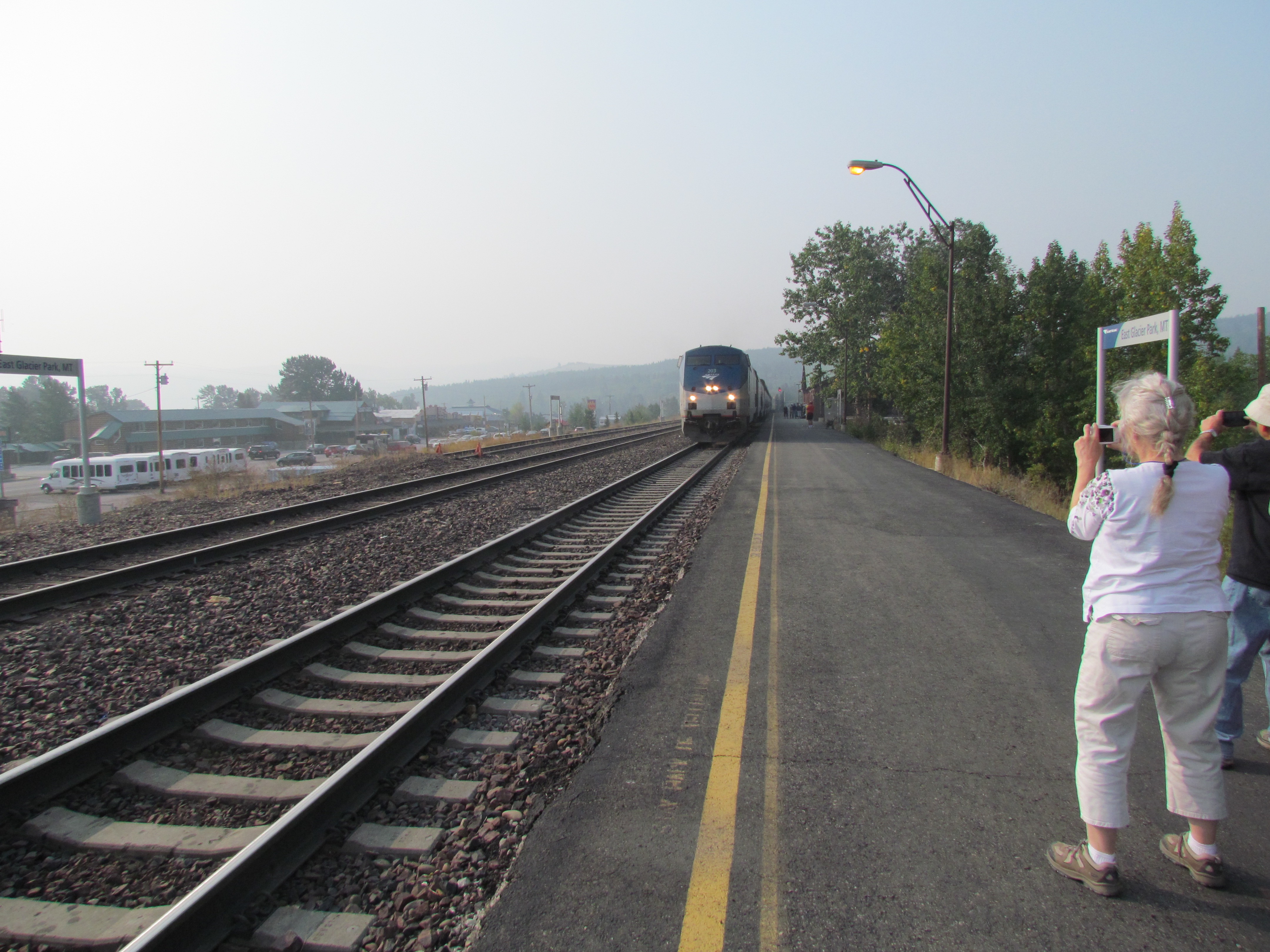 We began our journey in Chicago and traveled on the route built by the Great Northern Railway to Glacier National Park in Montana. The track was laid in the early 1900's and was very bumpy. Now that the line is operated by AMTRAK, a company with government funding, it's even bumpier. The trip took 30 hours but seemed more like 30 days.
There are three classes of travel on AMTRAK. Coach travel provides you with a seat. It's not quite as big as a first class airplane seat but it reclines and provides ample leg room. Unfortunately sitting in a seat of any kind for 30 hours is never fun. I traveled by Greyhound bus when I was in college and it was a literal and figurative, pain in my ass.
A step up from coach is the sleeper car where cubicles are furnished with two seats, facing each other. They fold down to form a single bed and a second bed drops down from above, creating an upper and lower berth just like you've seen in old black and white movies.
The upper berth is accessed by a ladder and getting into bed requires the agility of an olympic athlete. Also, sleeper passengers get to eat for free in the dining car. We met several people in the dining car who obviously rode the train for the free food. They're the same folks who rate cruise ships by the midnight buffet. I don't know how they both fit into a sleeper car but I'm guessing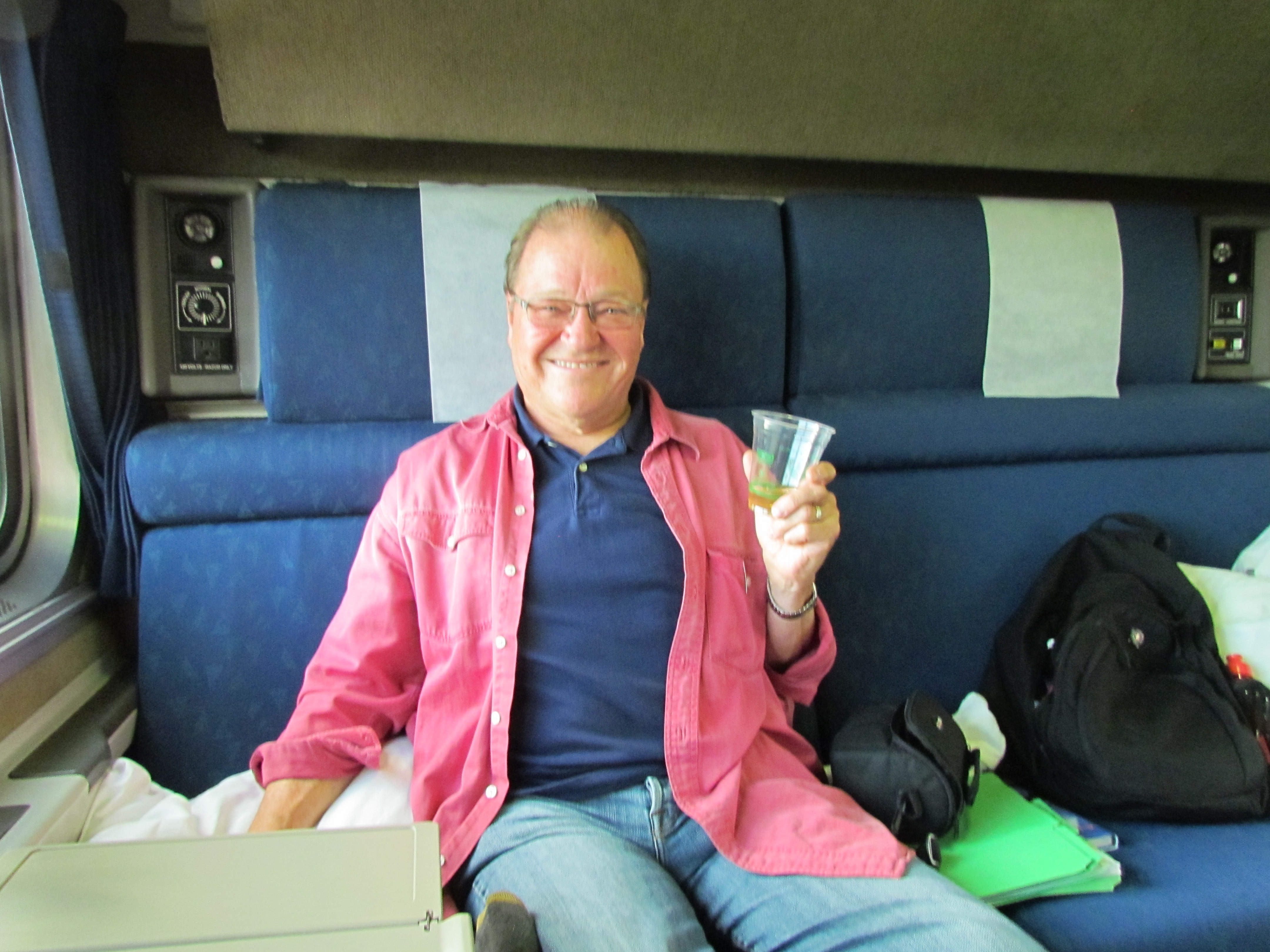 there was a lot of pushing involved.
The third choice for travel is the roomette. This is an actual room the size of a large walk-in closet. It features a sofa that folds into a single bed and a smaller bed that drops down from above. The roomette also has a large picture window so that you can enjoy the scenery and your very own bathroom. The bathroom, in keeping with the Lilliputian scale of the rest of the room, is the approximate size of a phone booth. If you are too young to know what a phone booth is, watch an old Superman episode on cable tv.
The bathroom served as both a toilet and a shower. In fact, the easiest way to take a shower is to sit on the toilet, and if you are into time management, you can accomplish two functions at the same time. But the roomette looked like the kind of room that James Bond traveled in, so I figured it was perfect for us, and it would have been perfect, had we been anorexic little people.
Neither of us wanted to venture up the ladder to access the upper bed, which was equipped with military-style safety straps to hold you in place, so we both slept in the single bed. It was like being back at college but much less romantic. Between the size of the bed and the constant motion of the train, I don't know how James Bond ever got jiggy with it.
Real trains don't roll smoothly like the one I put under the tree at Christmas. They bounce around like a beach ball in a bidet, making it very difficult to stand up and walk. Walking down the hall from car to car, I became part of a human pin ball game. I bounced from side to side as I walked down the narrow hallway at one point, even fell into someone's sleeper car. Fortunately they were not asleep at the time. If you find yourself on a bumpy train like this, I suggest you drink to the point that you stagger. Then you will wind up going down the hallway as straight as an arrow.
Stay tuned for part II, The Park